In hot stamping foil industry, gold and silver, which are mostly used in textile and leather industry are preferred foil colors. However, grey, pink, navy blue, green colors are used in many application.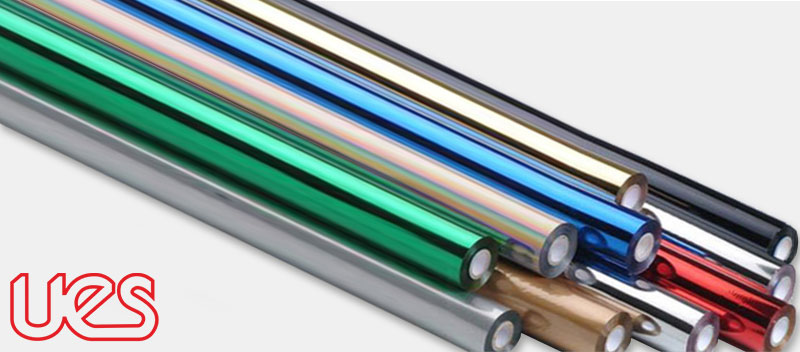 UES keeps more than 70 plain colours as ready stock in its own warehouse to give the best and the fastest service to market.
Hot Stamping Foil Applications
It is commonly used in women's ,children's and men's clothing, home textiles, shoes, handbags, accessories, T-shirts printing.
The most common users of hot stamping foils are peinture contractors, fabric dyeing factories, leather tanneries, leather finishing factories, roll to roll fabric stamping companies.
Hot stamping foil transfer process is done with parameters of heat, touch time, and pressure over binder surface, created by nickel rotary screen, flat screen, or spray technics.
Properties
Made of polyester film of 12 microns. Metallic gloss, soft gloss and matte effects, gives the different reflections. "Release resistance" of foils to be sold are "moderate" level. resistance of so-called "moderate" level. In this way, the "silver dust" problem is reduced and carrier film can be seperated over large surface binders easily.
Foils are produced as 150cm width, 100mts length on 1″ paper core inner diameter; 500mts and 3.000mts length on 3″ paper core inner diameter.
Application Parameters
| | |
| --- | --- |
| Application parameters are summarised as temperature | 150C |
| Pressure | 6bar |
| Duration(waiting) | 4-5 seconds |
However, the glue or binder type and quality, fixation process of glue (process), machine special conditions can affect directly on result of transfer process. So, every user company should adjust the proper parameters according to their own conditions for the best result. Otherwise,insufficient heat transfer during fixation of glue can cause a nonfinished chemical reaction, and it will directly affect on rubbing resistance, washing resistance or loss in transfer.
Application Method
1. Glue is applied on textile or leather.
2. Patterned or fully coated glue is fixed by heat before foil transfer properly.
3. Stamping the foil ,heat:130C-150C, pressure 4-6 bar, touch time 3-5 s.
4. Discard the carrier film after stamping process.Different seperating way of film as hot/cold, now/then are advised for different results.
5. Hard release foils can be seperated after 1-2 hours or get cooled well.
6. Reverse release can be applied to solve the problem of "silver dust" due to soft foils.
► Gold and Silver
► Black and Nonluminous Black
► Matt Gold & Matt Silver
► Metallic Colors
► Matt Colors
► Transparent Colors
► Shine Film
► Matt Film